It's a chill November day in Helsinki, but the temperature inside the Exhibition & Convention Centre is hotting up by the minute. On stage, beads of perspiration glisten as young hopefuls pitch their ideas to angel investors. This is Slush, the world's premier business matchmaking event. Seated near the stage is Jukka Salmikuukka, KONE's Director of New Business Concepts. But what does a corporate goliath like KONE expect to gain from an event for newbie entrepreneurs?
"We work with startups to speed up our innovation process because they're creative, fast, and willing to adopt new technology," says Salmikuukka. "It's not about individual companies competing anymore, but more about competing ecosystems," he adds.
By leveraging the agility of start-ups, KONE can focus on its core ecosystem and let speedier visionaries find new angles for enhancing the customer experience. "We believe that 1 + 1 = 3," says Salmikuukka.
PUTTING HEADS TOGETHER
Megacorporations from Apple to Google are all hooking up with small, agile tech businesses, says Slush CEO Riku Mäkelä.

"Co-operation might take the form of pilot projects with selected startups, opening up digital interfaces and Application Programming Interfaces (APIs) to new apps, or running hackathons and competitions," says Mäkelä.
KONE actively uses all three approaches. At Slush 2014, KONE threw down the following gauntlet to app developers for its API Challenge: "If we give you the interface, what apps would you create to benefit us?" The winners, iBeaconfi, received €15,000 in prize money to be used for joint prototyping with KONE.
In 2014, KONE announced an Open Call for People Flow Ecosystems that goes beyond a tech focus and helps startups produce commercially viable products.
SECURE WITH INDOOR NINJA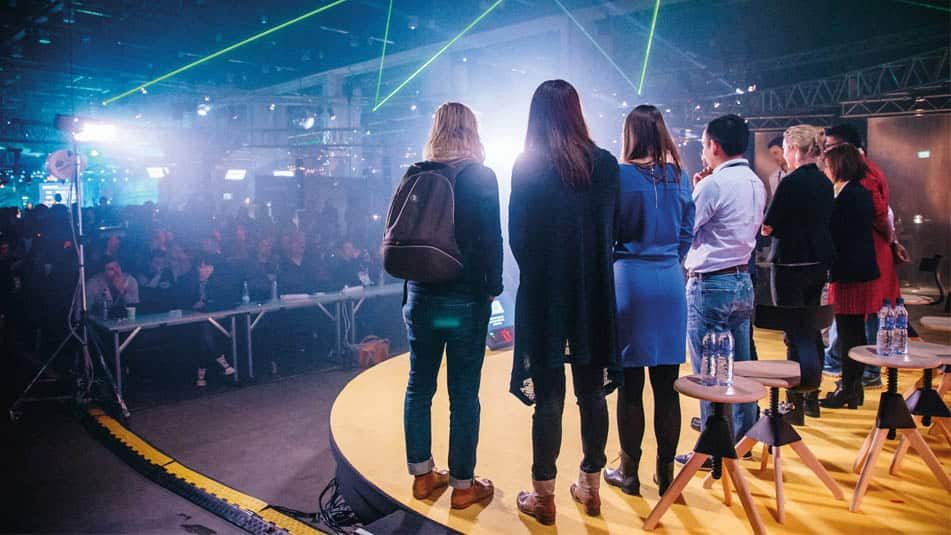 A new visitor management app developed by Estonian startup, Indoor Ninja, is being prototyped at Navigator, a futuristic office complex in Tallinn. As a KONE-mentored pilot, the app was designed wholly by Indoor Ninja with integration support from KONE.
While most access control systems leave visitors locked out of lifts and stuck in the lobby, Indoor Ninja's app enables the building's tenants to manage their guest flow via their personal smartphones. After the host accepts the guest, a lift automatically takes the visitor to the desired floor.
"The lifts can be used only by people authorized by the tenant. This improves security and reduces costs, as it eliminates the need for reception staff. To top it all, this solution takes us one step closer to the smart city era," says Marko Kull of Capital Mill, owner of the Navigator building.
The fit between small and big was perfect in this pilot, says Peep Paum, founder of Indoor Ninja and CEO at Mobile Digital OÜ. "A start-up might have a good idea, but without financial traction, it can easily become worthless. We believe big corporations can gain in agility, and efficiency in prototype development via set-ups like ours," adds Paum.
MAKING THE MAGIC HAPPEN
Salmikuukka says Indoor Ninja offers a foretaste of bigger things to come. "Soon we'll see navigation systems that think for themselves, automatically doing everything from calling elevators to turning on lights and guiding you to your destination. This is what People Flow integration is all about – a service experience that feels like magic."