As participants shared the floor with top KONE executives, representatives of heavy-weight companies such as IBM and ABB exchanged ideas with start-up entrepreneurs – all while the 15 teams competing in KONE's first hackathon got to work. The three-day event was a petri dish of sorts, where theoretical innovation could flourish in a hands-on environment.
"I'd dare say the hackathon was even better than I'd expected," says Samu Salmelin, KONE Head of Services and Solutions R&D, about the event held in Hyvinkää at KONE People Flow Centre, this March.
"There are just so many new areas that are part of the digital transformation," he says. "We can't have them all in-house which is why hackathons are such a great forum," Salmelin adds.
THE KEY CHALLENGES
One of the main tasks at hand was to find new ways to improve end-user experience. The hackers were also asked to consider how to make life easier for service engineers and building supervisors, and in general how to make a building "smarter".
Helsinki-based Streamr was among the competitors who pondered over what kind of data was trickling in from the elevators. "Different data has different qualities," says Streamr's Juuso Takalainen. "When you combine them you often get a bigger picture that's more valuable than the original data," he adds.
And with the right tweaks, that "bigger picture" morphed into the concept of a telepathic lift, which knows where a building resident, for example, wants to go before they've reached over to press the button. "The telepathic lift was just one of the crazy ideas that felt the most kind of doable," says Takalainen.
SMOOTHING THE ROUGH EDGES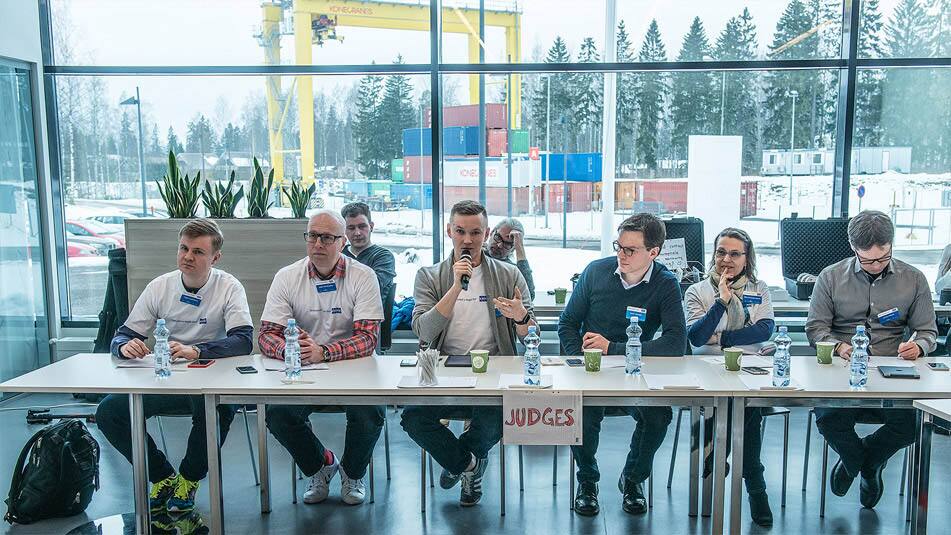 Doable is a key word. That's why competitors on day two were given the chance to get feedback on their first host of ideas. "The sessions were organised to make sure no one was barking up the wrong tree, and the ideas actually deliver expected improvements to users and facility managers, and ease engineers' daily work," Salmelin points out.
Fantastic ideas are one thing, feasible ones quite another. The buzz around 'the internet of things' (IoT) is a perfect example, because while the chatter has grown louder, there have been few concrete and easy-to-commercialise ideas. Streamr would like to help change that.
"Data in, data out, then do something sensible with it; that's what the IoT is supposed to do but while the concept shows promise, it's yet to deliver," says Takalainen. "Maybe the telepathic elevator will be the big breakthrough for the lift industry."
A NAIL-BITING FINISH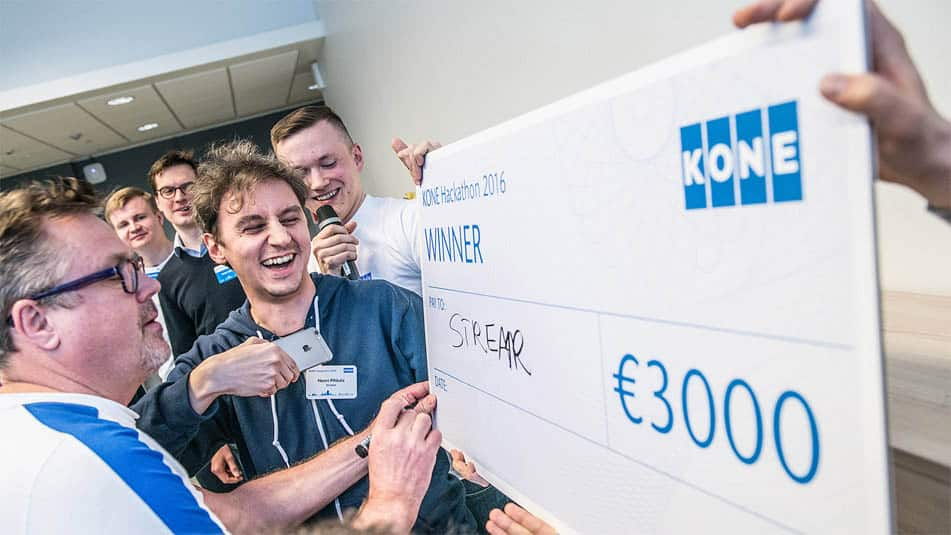 On day three, KONE announced five finalists – and Salmelin points out that KONE would like to keep the dialogue open with all of them, as they presented solid ideas for the future. But in the end it was Streamr, not least thanks to it "really striking" idea presentation, that took home the top gong.
"It's a unique idea that will enhance People Flow, have true commercial value, and above all, is doable," says Salmelin. Riding on the success of the first hackathon, tentative plans are underfoot to hold similar competitions in KONE's key growth markets India and China.
"Novelty is the whole point of a hackathon," says Takalainen. "If you want a specific solution, you'd hire a consultant. With a hackathon, you're solving problems before people realize they have a problem," he says.
65 hacker teams applied to take part in the competition
15 teams, ranging from university students to existing start-ups, were selected for the three-day event
Programmers used KONE, and IBM-enabled APIs