"It started more as a 'thank you' to countries that have been part of making KONE big and beneficial," says John Simon, as we sit to talk about the journey of the foundation. Simon is a member of KCF's Board of Directors. So are Tiina Herlin and Riikka Ihamuotila, also present at the meeting. This team has been planning and shaping KCF's activities in different geographies since its inception.
Their first project, in 2011, was to create a mobile library designed specifically for children of migrant workers across cities in China. Next stop was India, where the team collaborated with Rotary Club Madras to support the Rotary Nagar Youth Center in an inner-city slum in the southern city of Chennai. From India, they went to South Africa and Mexico in search of young people who needed help.
While the issues vary from country to country, KCF has a clear focus in terms of its target group. "We limit it to activities that benefit children and youth in countries where there is a clear need. This is a way to get guidance for us and give guidance to anyone who is looking for help," says Simon.
FINDING THE RIGHT MATCH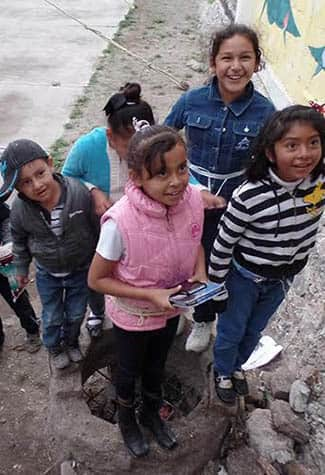 But the process of finalizing an initiative in each country isn't as simple. "We don't decide anything in advance," says Herlin. "We take a long time to find out what is needed and define the nature of the projects," she notes.
Nodding in agreement, Ihamuotila adds, "We conduct immense background work before going to any country." "In Mexico, for instance," she says, "we tried to find out what are the issues that are most up in the air and we discussed about street children, a girl child's standing in the society, etc. – a lot of fact-finding."
Background research is only the first step, though. The process then includes several discussions with local KONE employees and potential partners in the city/country. When KCF's team visits a country for the first time, they set up 10-15 meetings in a week, with local NGOs and potential partners, before zeroing down to the right partner. Herlin believes it is a slow but efficient way of finding out which project could eventually become 'self-sustainable'.
IN PURSUIT OF THE MAGICAL MOMENT
"What we want is to find that magic where something is about to happen or could happen if we give it that extra boost," says Simon. He uses the example of Mexico to explain. "Locals in Mexico City had formed a collective to do things without any funding, and it reached a point where to take another step they had to formalise what they were doing and get some kind of funding. So we could see they were right at the point where we could help them move to a much higher level and help many more people," he says.
Outcome? KCF and Tanesque A.C., a local NGO in a community with high crime and unemployment on the outskirts of Mexico City, are helping Xico Arte, a group of local young people interested in art, become an independent NGO that works in close cooperation with the Xico Museum.
South Africa, too, scripts a similar tale. With the help of numerous partners, KCF's initiative in South Africa helped found the innovative Westbury Youth Centre (WYC) in a poor Johannesburg community with a history of gang-related crime and drug problems and secure start-up funding for it from Finland's Ministry of Foreign Affairs. The center now brings nonprofit agencies and skills development programs under one roof to create a one-stop shop where young people can find a wide range of services and opportunities.
THE THREE-LEGGED STOOL
KCF's job does not end once the project is implemented. It continues to monitor remotely the developments of all its projects. "We try to visit each project at least once a year," says Ihamuotila.
Distance, she says, is not the only problem. Cultural differences pose challenges too. This is where local KONE employees and partners step in. They help KCF's team decode cultural intricacies and overcome language barriers.
"The dynamics of this tri-partite approach - sort of like a three-legged stool - is such that if one of the legs gets wobbly, the whole stool falls over. Sometimes the wobbly leg is KONE, sometimes it's the partner NGO, and striking a balance requires an awful lot of management" notes Simon. The good thing is the team has learnt to stay persistent and patient, and look at the brighter side.
In less than a decade, KCF has managed to make a difference based on co-operation of ideas and values. The journey of this six-year-old organisation has only begun.