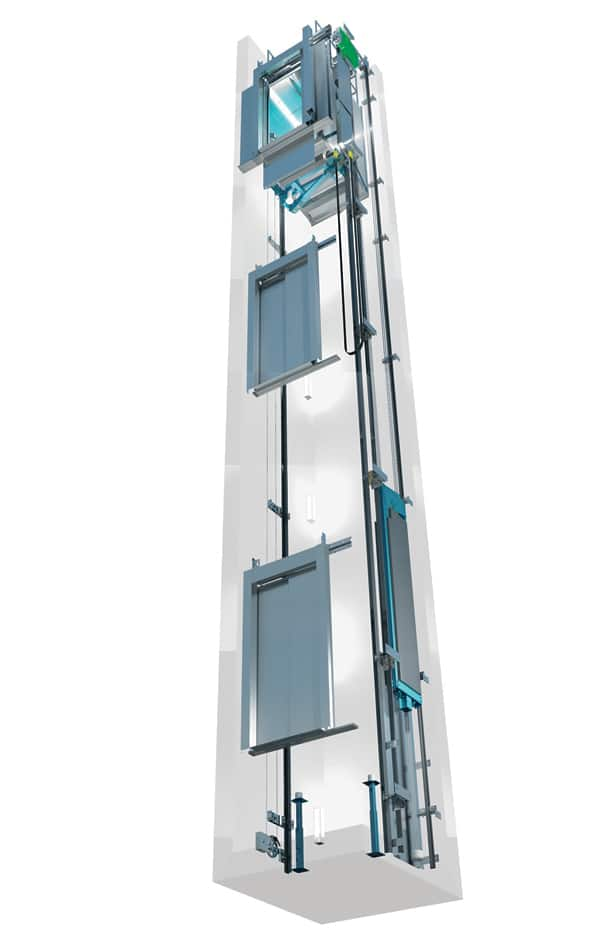 The year was 1996. The catchy Spanish pop song Macarena had the world dancing to its tunes; and movie buffs were on the edge of their seats watching Agent Ethan Hunt uncover a spider's web of moles, stolen computer disks and murders in the first instalment of Mission: Impossible, when KONE launched its machine room-less lift, MonoSpace®.
The groundbreaking innovation changed installation and manufacturing technology in the industry, and made a big improvement in both, space and energy efficiencies. But its origins can be traced back to that one day in the early '90s, when Harri Hakala went for a jog and had a moment of realisation.
Hakala, an engineer then with KONE was working on linear motors. While jogging, the idea to create a motorised traction system (instead of relying on linear motors) hit him. "I knew something drastic had been invented," reminisces Hakala, who believes, that very moment symbolised the birth of MonoSpace.
"What was needed for MonoSpace elevator was the disc-shaped EcoDisc, a motorized traction system that is flat enough to be located inside the hoistway," explains Hakala, now Research Director at KONE.
Until then, bulky elements of the hoisting machine were housed in a separate room (either on the top or bottom of buildings). KONE's EcoDisc freed up that space and let architects get more creative with space usage.
GUARDED SECRECY
The first EcoDisc motor was created at KONE's R&D centre in Hyvinkää, Finland, where a group of six comprising Hakala, a sub-contractor, mechanical designers and electricians, worked discreetly on the first prototype.
"The first working EcoDisc prototype was a Christmas present for the company management – the Christmas of 1993," recalls Hakala. The team then grew to about 20 people passionately developing and testing the technology.
Originally called the "Greenstar", the first set of KONE MonoSpace lifts were sold to pilot customers in the Netherlands as part of 1995 pre-launch market testing.
Initially designed for low-rise installations, the technology was later adapted to mid-and high-rise lifts as well. The demand for machine room-less lifts grew. The lift production moved to Pero, KONE's factory site near Milan in Italy and a new factory was built in Hyvinkää to produce KONE EcoDisc hoisting machines. By the end of the 1990s, the KONE EcoDisc family of hoisting motors had become KONE's flagship range of products.
MAKING BEST BETTER
Fast-forward to 2012. KONE was ready to unveil the new and improved version of MonoSpace®. "This project started with feedback from our Asian customers, who expressed a wish for greater ride comfort. So we set out to see if we could make best, even better," says Tomio Pihkala, Chief Technology Officer of KONE.
"After three years of rigorous testing, complex cross-territorial planning, and attention to building codes, we finally had it - the best elevator ever made," he says. "We have always offered the best. The new solution was even better," he adds.
The KONE EcoDisc machinery was renewed, brakes were upgraded, motion control was improved, the hoisting system was centralised and developed to be low-friction, and the overall car structure was made more robust.
"With no forces on the guide rails, there was much less friction, noise and vibration," explains Pihkala.
That was not all. It was also more energy efficient. The upgraded EcoDisc's copper winding system reduced the amount of energy lost as heat, and the standby option meant the elevator's energy consumption was close to zero, when not in use. The additional feature of long-lasting LED lighting and regenerative drives that recycle energy for reuse in the building made the upgraded product the most energy-efficient volume lift offering in the world.
DESIGNED TO PERFECTION
The design too was revamped based on detailed trend research carried out in Europe, Asia and North America. While the core interior option collection remained global, the materials, colours, patterns, accessories and fixtures were localized for different markets.
"Instead of supplying a 'steel box', we wanted to provide the desired furnishings and best design straight out of the factory," says Pihkala.
Features such as signalisation were also refreshed, making them intuitively user-friendly. Attention was paid to things like high-visibility numbering for seniors or the visually impaired. While upgrades will be made to meet the demands of changing landscapes, MonoSpace, in Hakala's words is a 'classical design' that is here to stay. Well, the creator has spoken!