KONE solutions for firefighters elevators fulfill both the environmental and functional requirements of the EN 81-72:2015 standard. Our solutions include trap doors and ladders for rescue operations. All electrical and control equipment, their enclosures, and elevator operation in the event of fire meet the requirements of the standard.
A firefighters elevator can be used as a normal passenger elevator even if it has the additional protection, controls, and signalization to enable it to be operated by fire service personnel.
Contact your local KONE sales representative for more information.
Building and elevator requirements
The following must be taken into account:
Building
Environmental requirements
Safety requirements
Water management
Power supply
Fire service communication system
Elevator
Fundamental firefighter elevator requirements
Rescue of trapped firefighters in the elevator shaft
Control system
Car and landing controls
Fire service communication system
Fundamental elevator requirements
Minimum car size 1100 mm x 1400 mm, 630 kg
When evacuation required, minimum 1100 mm x 2100 mm for 1000 kg
Intercom connecting elevator car, fire service, and monitoring room
Ladders and trap door, minimum 400 mm x 600 mm for 630 kg cars, 500 mm x 780 mm for larger cars
IP23 Enclosure class for car controls and for electrical devices within 1 m of landing
Specific building-related requirements e.g. removal of water from pit by builder
Car interior options for firefighters elevators
1. Ceiling
LED spot lights CL80FF, CL80FFL, CL88FF, CL88FFL, CL96FF, CL96FFL
2. Car operating panel
Partial height KSC D23, KSC 143
Full height KSC D53 KSC D63, KSC D733
3. Handrail
Full offering available subject to restrictions set by local building codes.
4. Walls and flooring
Full offering available subject to restrictions set by local building codes.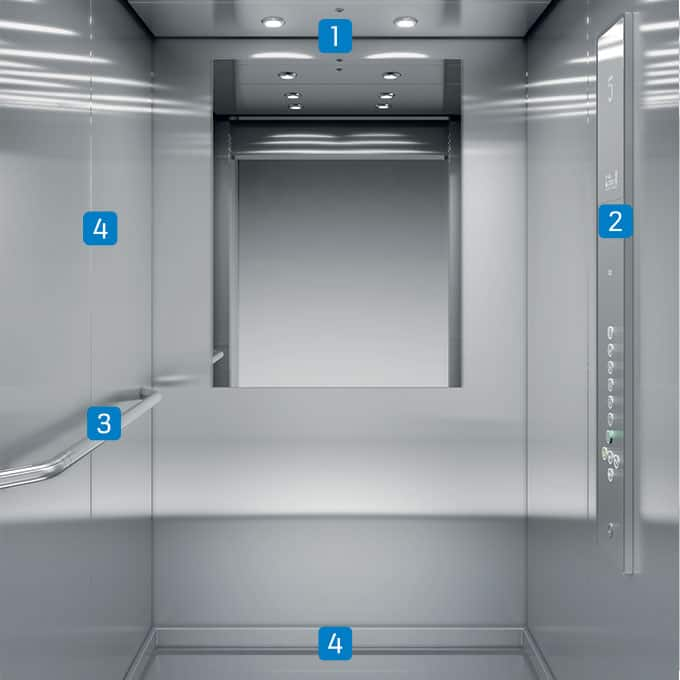 Landing device options*
KSH D20, KSI D42,
KSI 573, KSA 573,
KSH 670, KSI 673, KSA 673
*Firefighters access level always requires position indicator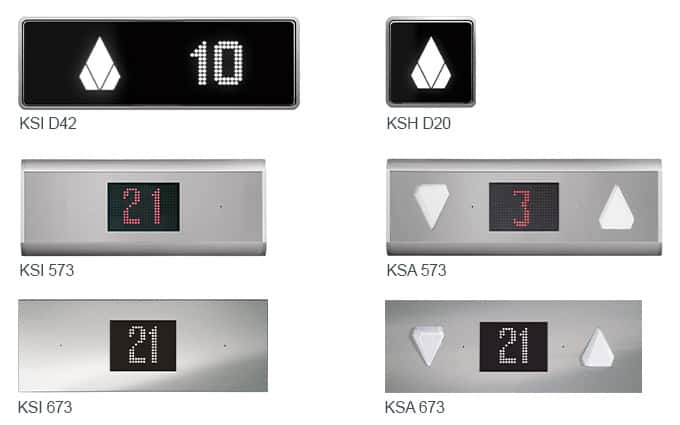 In-car ladder
Ladder can be located in the ceiling with trapdoor (CL88FFL) or to separate ladder cabinet (not available for KONE MonoSpace® 500 DX).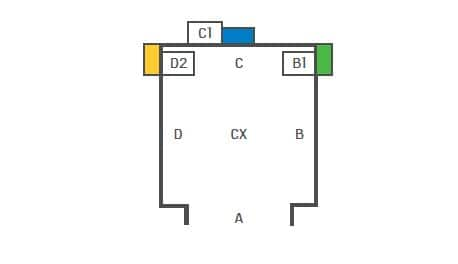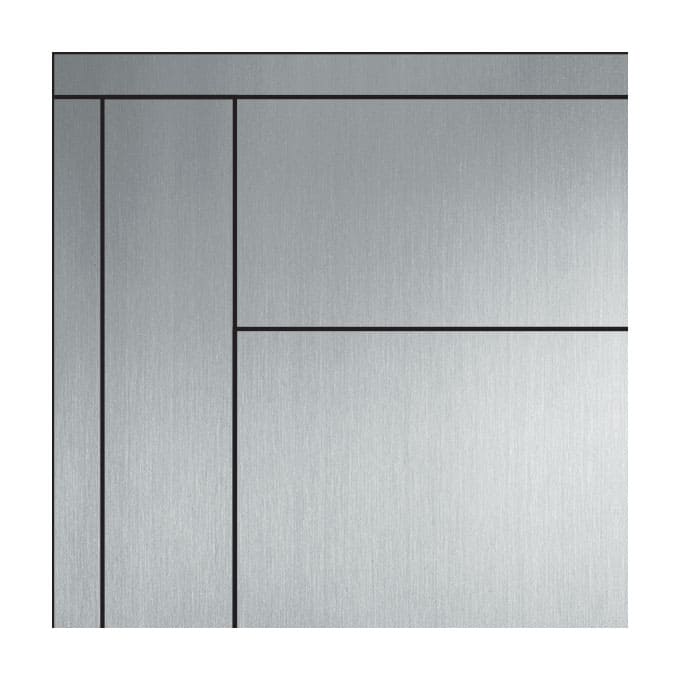 Landing door options
KES 600 and KES 800 doors
Stainless steel (F, K, M, H)
IP54 enclosure